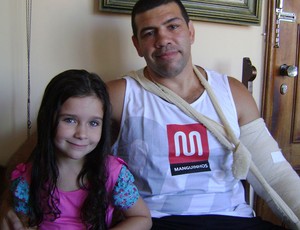 Pedro and Laila (picture by Camila Rizzo)
Finally! Pedro always wanted to fight Fedor. It'll happen at last. After injuring his triceps whyle training with our friend Peter Aerts, Pedro is fully recovered and is ready for the challenge. The fight will be on June 21rst in St. Petesburg, Russia. The challenge of fighting in Fedor`s home town makes Pedro like the idea even more. Here's what he has to say about it...
Pedro is very excited and invites everyone to watch the fight.
The great Fedor Emelianenko
The great Fedor Emelianenko used to be the most feared heavyweight in MMA competitions. I`ve always knew Pedro`s game was the perfect one to beat Fedor, but two other brazillinas got there first. No problem!
I don`t think anyone can resist Pedro`s striking power if he is free of injuries and have fire in his eyes. He is!
Pedro rocks!!!